Product Description
Member's Mark Natural Pecan Halves (2 lbs.) - *Ships from Miami
Why we love this
"I have purchased Member's Mark pecans for years. Great to keep on hand for many different dishes. Makes great pies. Great to snack on. Great buy!" - Peggy, Sam's Club Member
About this item
2-pound resealable bag of pecan halves
High in antioxidants
A tasty pantry staple
Great for baking or a healthy snack
Can be enjoyed as-is or mixed with other nuts and dried fruits
Description
Perfect for adding a crunchy earthiness to any recipe, savory or sweet, or just nibbling on as a healthy snack, enjoy Member's Mark Natural Pecan Halves, rich in antioxidants and flavor.
What are Some Uses for Member's Mark Natural Pecan Halves?
Enrich your next baking treat with the pleasant taste of these pecan halves. Ideal for stocking up on tasty pecans before holiday baking season hits, this hefty two-pound bag is resealable to seal in freshness and use time and again. Try mixing these all-natural pecan halves with other nuts and dried fruits for a tasty trail mix.
What is a Simple Way to Enjoy Oven-Baked Pecans?
Enjoy snacking on pecan halves but want a more elevated snack? Just toast them up in your oven. Simply preheat your oven to 350A°F and lightly spray a baking sheet with your favorite cooking spray. Spread your pecan halves on your spritzed baking sheet so that none overlap, which allows for more even roasting. When your oven is preheated, pop your pecan halves in the oven and let them toast until they've become aromatic (about five minutes). Enjoy your baked pecans! We love this super-quick recipe on chilly fall days.
Classic Pecan Pie Recipe with Pecan Halves
Want to make a more complicated dish than roasted pecans? This classic pecan pie recipe is sure to please a crowd for Thanksgiving, office work parties or just as a post-dinner weeknight treat. We've got an easy pecan pie recipe for you that only uses seven ingredients, including Member's Mark Natural Pecan Halves. Let's get to baking! Preheat your oven to 350A°F. While the oven is preheating, grab a large mixing bowl and combine one cup of light or dark corn syrup (both work well!), three eggs, one cup of granulated sugar, two tablespoons of melted butter or margarine and one teaspoon of pure vanilla extract. After your ingredients are fully combined, stir in one-and-a-half cups of pecan halves. (Want smaller chunks? You can also roughly chop your pecan halves to create smaller bites.) Next, pour your nut mixture into a 9" frozen or unbaked pie crust. We recommend using a deep-dish crust for this recipe. Bake your pie on the center rack for 60 to 70 minutes, watching so that your pecans don't burn. Cool for at least two hours before cutting. Enjoy!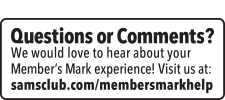 Product Videos
Custom Field
Product Reviews