Product Description
Member's Mark Natural Shelled Walnuts (3 lbs.) - *Ships from Miami
Why we love this
These family-grown, non-GMO walnuts are a great source of omega-3s and healthy fats, making them a perfect addition to salads, cereals and grab-and-go snacks.
About this item
Fresh walnuts
Family farmed and manufactured in the USA
Non-GMO Project certified
Great for cooking, baking or eaten by the handful
Resealable package for freshness and convenience
Description
MemberâÇÖs Markâ,¢ Natural Shelled Walnuts (3 lbs.) are a healthy and versatile snack that can also be used as an ingredient in a wide range of baking and cooking recipes. Keep a package of these healthy snacks handy to sprinkle in yogurt or cereal, top salads with or eat by the handful.
What's Is the Nutritional Value of Walnuts?
MemberâÇÖs Mark Natural Shelled Walnuts are family-grown in California and are Non-GMO Project certified, making them a healthy choice for the whole family. Fresh walnuts are also high in protein, which can help keep you feeling fuller when you snack on them in-between meals. These healthy snacks for kids can be added to a wide range of kid-friendly foods or packed in a lunch box for a satisfying pick-me-up at school.
Baking and Cooking with Fresh Walnuts
Fresh walnuts are great for baking. Many people love to add them to dishes like brownies and banana bread. TheyâÇÖre also suitable for use in dozens of vegetarian and vegan recipes. They can be added to salads or crushed and used to make a plant-based macaroni and cheese meal. Adding walnuts to baked and cooked dishes can help deliver an extra dose of protein and healthy Omega-3s to your diet, helping to give you energy and keep you feeling full for longer in-between meals.
WhatâÇÖs Special About MemberâÇÖs Mark Natural Shelled Walnuts?
These California shelled walnuts are an excellent choice compared to other leading brands because theyâÇÖre family-grown and Non-GMO Project certified. This means that you can count on enjoying healthy, high-quality walnuts in every bite you take. Eat these walnuts with peace of mind, knowing they havenâÇÖt been genetically modified or grown with the use of harmful chemicals. This is one heathy snack that you can feel good about feeding to your friends and family.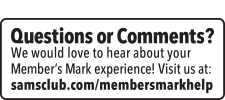 Product Videos
Custom Field
Product Reviews