Product Description
Why we love this
Toss the chipsâÇ"healthy snacking has been redefined! Our premium nuts are roasted with sea salt to give you great flavor and benefits from the natural fats.
About this item
50% less sodium than regular salted Deluxe Mix Nuts
Includes almonds, pecans, hazelnuts, cashews, and pistachios Contains healthy vitamins and nutrients
Great size for sharing
Kosher
Description
Member's Mark Lightly Salted Deluxe Mixed Nuts offers healthy and delicious snacking, and comes in a jar that's big enough to share.
WhatâÇÖs in this Jar of Member's Mark Deluxe Mixed Nuts with Sea Salt?
This jar features a collection of delicious mixed nuts that you can use to relieve hunger. Roasted with sea salt, these nuts have a rich, irresistible flavor. Avoid unhealthier options like chips and candy by choosing a snack like this. In this one jar, youâÇÖll receive cashews, almonds, pecans, pistachios and hazelnuts. They also have 50% less sodium than our other Roasted Deluxe Mix Nuts!
What Can I Do with Member's Mark Deluxe Mixed Nuts with Sea Salt?
Although you can eat these plain and savor their salty flavor, you can create some interesting recipes, too. Many people enjoy tossing their mixed peanuts into a salad, while others prefer to glaze them in honey, drown them in brown sugar, or dunk them in barbecue sauce. Add these nuts to a bowl of fruit and maybe even some chocolate for additional sweetness. Moreover, if you like to bake, add mixed nuts into the batter to give your muffins and cake some extra crunch.
Do These Deluxe Mixed Nuts Offer Nutritional Benefits?
Rich with flavor, these mixed nuts are chock-full of health benefits. Natural, healthy fats and a variety of vitamins and minerals will help you reach your daily nutritional goals. Just one serving of these deluxe nuts supplies your body with protein, fiber, vitamin E, magnesium, and much more.
Storage is a Breeze
These deluxe mixed nuts arrive in a strong plastic container thatâÇÖs easy to store. Place it in the pantry, the cupboard, or even the refrigerator so your tasty nuts are always accessible. This container has a twist-off lid, which prevents spills or potential messes.
Great for Feeding a Crowd
With 34 oz. of mixed nuts in one container, this is ideal for distributing treats to many people. If youâÇÖre hosting a party or a friendly gathering, this makes a tasty appetizer. There is more than enough in one jar to leave everyone pleased and satisfied.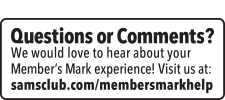 Product Videos
Custom Field
Pricing
Price Valid while Stocks Last
Product Reviews